The Harkat Lab Residency Programme
Supported by the Gujral Foundation
We were delighted to announce our first round of residents for 
Celluloid Karigar
, a residency opportunity at the Harkat lab, supported by the Gujral Foundation in July 2021.
The essence of this on-going residency is to give makers the tools, space and knowledge to make work on the celluloid medium. The Harkat lab's intent is to explore Indian thought through moving images, and function as an incubator of sorts, infusing a new wave of ideas in the moving image vocabulary. This is directly in line with our ongoing curatorial, 'India on Film'.
Starting July, we were happy to welcome collaborators 
Gavati and Moakshaa
, and 
Sajid Wajid Shaikh 
as the first two residents of the Harkat film lab. Spread over 45 days, the residency started off with an overview of the celluloid medium, after which residents worked independently on their projects, with unlimited access to the lab, mentorship and guidance that saw their films through to exhibition. We called them monsoon residents. Going with the seasons seemed appropriate.
Gavati & Moakshaa
Gavati is an artist from Pune, India. She primarily works with performance and self-portraiture on 16mm film. Her interests lie in questions of identity in contexts such as gender, the domestic environment and the nation-state. Gavati is currently pursuing her MFA degree in Film/Video at the California Institute of the Arts.
Moakshaa Vohra is an arts administrator based in New Delhi. Over the last 4 years, she has been involved in the planning, management, and execution of multiple curatorial projects focusing on lens-based media. Moakshaa graduated from Srishti Manipal Institute of Art, Design, and Technology, Bengaluru in 2016. Her interest areas are in cinema studies and intermedia practices.
As artists and friends Gavati and Moakshaa's practices and concerns intersect at several points including their love for celluloid and it's materiality. During the residency, they will be exploring the idea of 'gentle gestures' of dissent and feminine resistance through sound, image, silence and darkness using cameraless film techniques.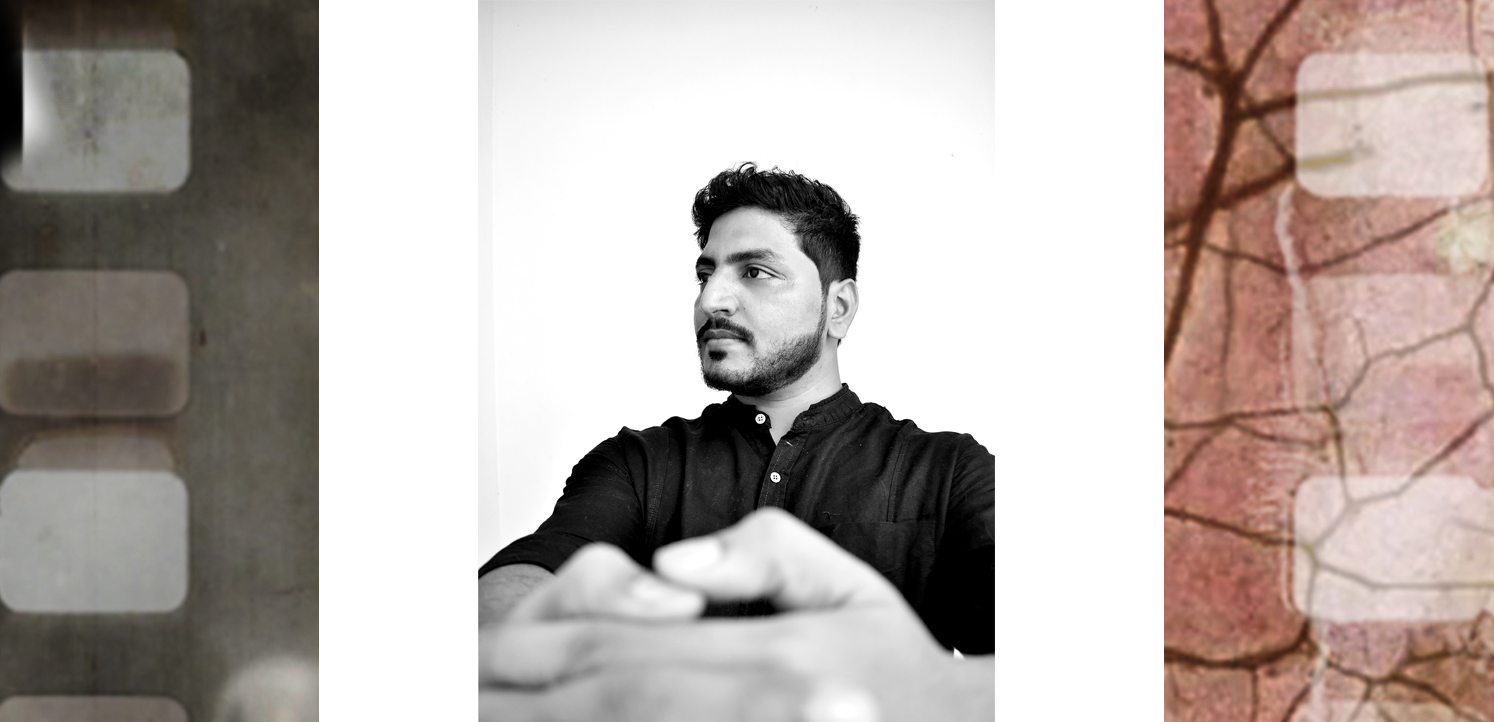 Sajid Wajid Shaikh
Sajid Wajid Shaikh (b.1989) is a Visual artist from Mumbai, India.
His practice is a conjunction of the conscious and the subconscious mind. While his conceptual practice is aided by the material world, his drawings transcend space, time, and memory to question nature.  Product of a meditative process, these drawings create a world of anomalies, seemingly fictive and surreal.
Over the years, the artist has also begun exploring conceptual art by recontextualizing everyday objects to examine their positions in nature, and also challenge their form and function. In an equally imaginative presentation, Sajid showcases these works through photography, two-channel films, sculptural installations, and performance-based pieces.
During the residency, Sajid will explore concepts of life, death and rebirth by the use of minimalist shapes and forms, inspired by
Rashmirathi
, a 1952 Hindi epic written in by Ramdhari Singh Dinkar.
Starting in August 2021, we were delighted to announce 
our Autumn Celluloid Karigars to the Harkat Lab. Following the same format as our first monsoon residency in July, we were pleased to welcome Aliasger Dhariwala and Annette Jacob as our Autumn residents.
Spread over 45 days, the residency started off with an overview of the celluloid medium, after which residents worked independently on their projects, with unlimited access to the lab, mentorship and guidance,
 that saw their films through to exhibition.
Aliasger Dhariwala
 is a visual storyteller primarily specialising in cinematography and photography. He has an eye for contextualizing cultures, traditions and nuances into crisp imageries of a contemporary India. Ali has worked in a number of mediums - from shooting 35mm and Medium Format film, to Digital. He is also a trained documentary and corporate filmmaker.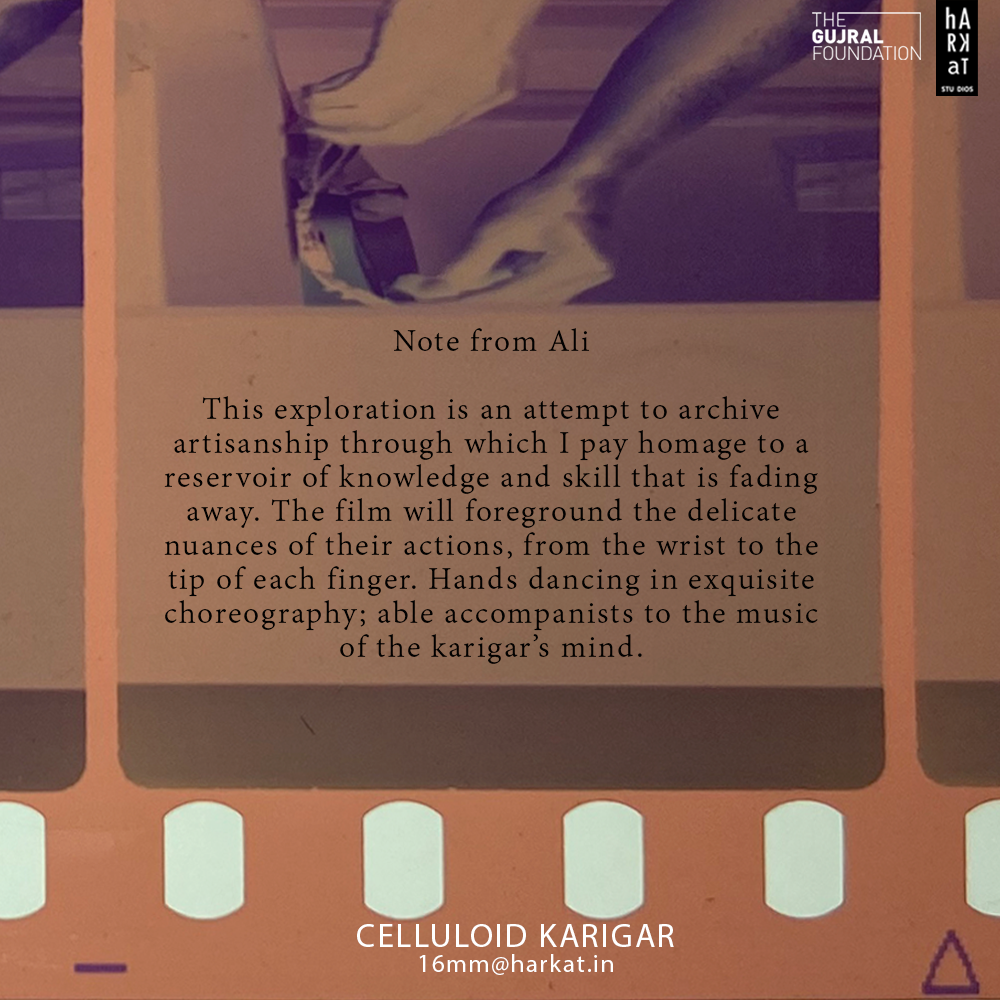 "This exploration is an attempt to archive artisanship through which I pay homage to a reservoir of knowledge and skill that is fading away. The film will foreground the delicate nuances of their actions, from the wrist to the tip of each finger. Hands dancing in exquisite choreography; able accompanists to the music of the karigar's mind"
Annette Jacob 
is an independent filmmaker whose work spans various themes and styles; from social justice documentaries to fashion campaigns, art documentation to educational series, video journalism to her own artistic practice and more recently, stop motion animation.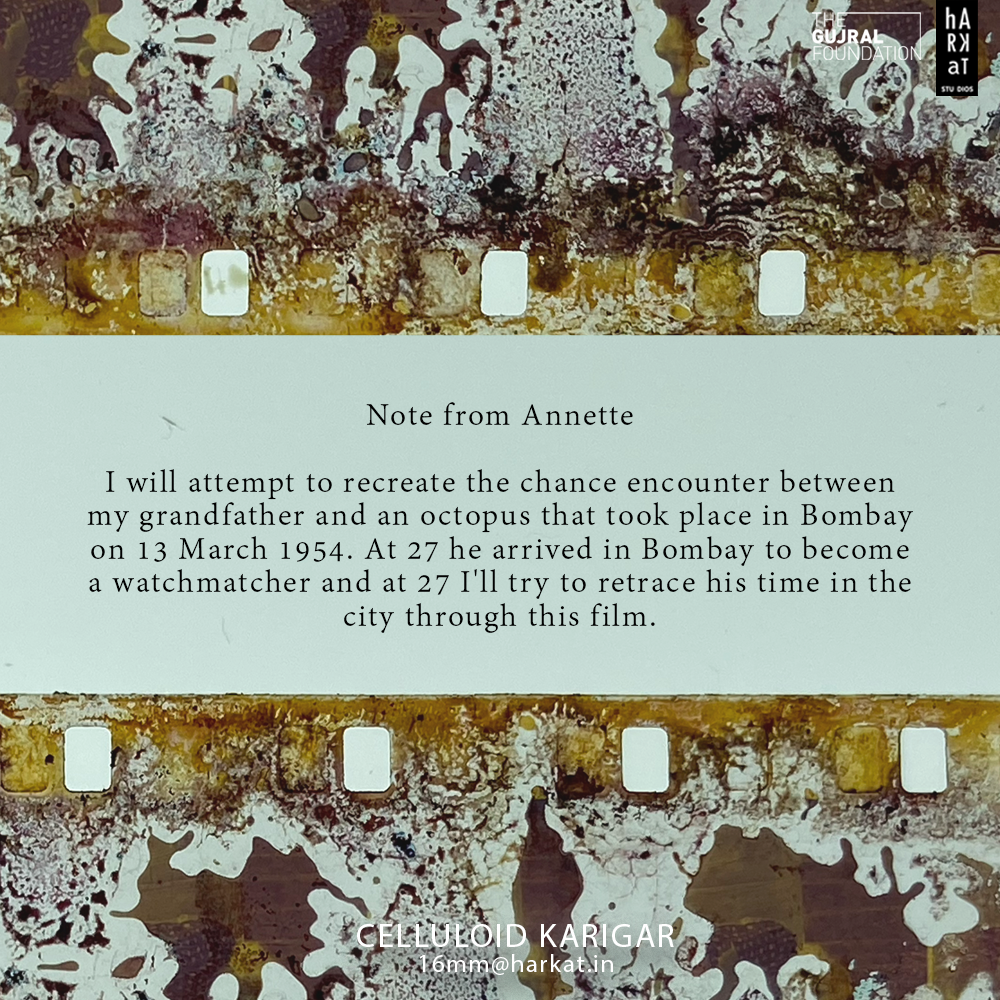 "I will attempt to recreate the chance encounter between my grandfather and an octopus that took place in Bombay on 13 March 1954. At 27, he arrived in Bombay to become a watchmatcher and at 27 I'll try to retrace his time in the city through film." 
To know more about our work in the celluloid space, hop onto 
16mm.harkat.in