During India Art Fair 2012, the Gujral Foundation in collaboration with Outset India and in association with Christie's supported a site specific installation by Vishal K Dar and Gabrielle Dunne titled NAAG, comprising of a sculpture and video projection at The Toilet, Mehrauli.
Vishal K. Dar's work displayed an artful approach to the use of material and technology. In a playful manner, Dar succeeded in transcending traditional definitions and limits of art, design and architecture. Gabriel Dunne used technology in his process to remove separation between creative mediums. The results were a continuous exploration of sensory patterns, structures and living systems in the universe.
When artists presented their work in a small space in Mehrauli, on the fringe of the community's development, the children of this neighbourhood had immediately made up their minds about the creature's (NAAG sculpture) true nature and the reasons for its appearance. To them it was a wish fulfilling sea-serpent, silent and evocative, which had found abode in this unused space to hibernate during the cold winter months of Delhi.
The artists wanted to challenge the notion of sculpture as a static object. The sculptural form wrapped itself around an existing architectural column. The surface texture was similar in material and colour to that of the existing walls of the space. During the day it appeared to be sedentary, but after sun down, the surface started to glimmer and move. The projected animations were mapped onto the surface from two positions, covering a 300 degree viewing angle. The projections moved in tandem with the surface segments and created a mesmerizing rhythm.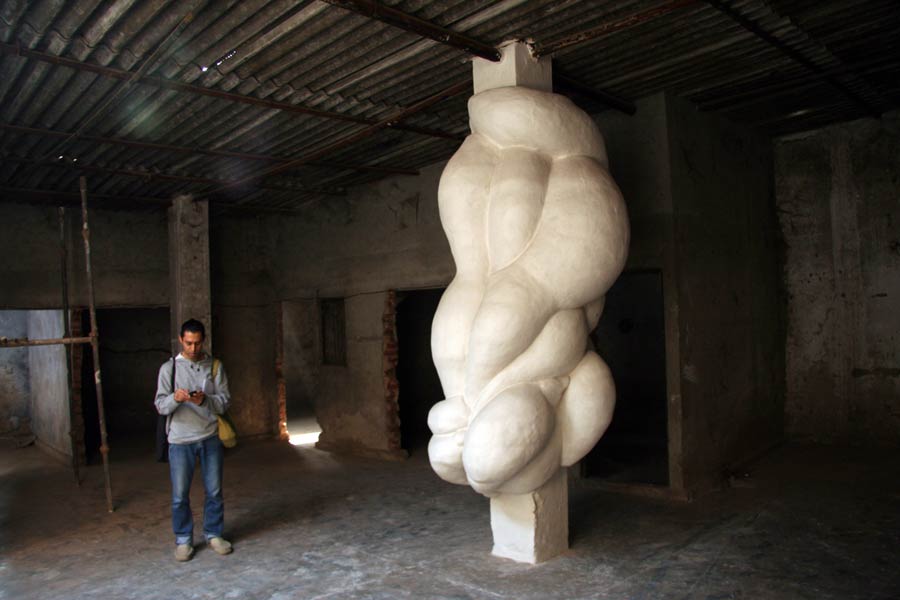 The preview of Naag was followed up by an exclusive dinner for 45 people hosted by Feroze Gujral and Amin Jaffer (former International Head of the Asian Art at Christie's) for a select set of international collectors and Indian art enthusiasts.
Outset India organised a special painting workshop for the kids in the village of Dada Bari Mehrauli. The children enthusiastically painted the installation Naag created by Vishal K Dar at the village in January 2012. Assisted by the artist Vishal K Dar and the team of Outset India, the children painted on the 11 foot tall installation with paints, colours provided by Outset India. The children were given special tokens of appreciation and certificates from Outset India for their participation.