Marking the momentous occasion of the Foundation's 15th year, the Gujral Foundation presented 'The Impossible Bouquet' in association with Volte Art Projects, a solo exhibition by multidisciplinary artist and art tech pioneer Raghava KK, showcased at the iconic 24 Jor Bagh, from 10th to 16th February 2023.
With an extraordinary new wave of word-to-imagery AI disrupting the art world, 'The Impossible Bouquet' engaged with 'prompt engineering' to ask the question, "Can we shape our collective futures using this disruption as a springboard?"
Raghava KK exhibited his cutting-edge series of impossible bouquets as a continuation of his pioneering encounter with AI. The image of the bouquet–a gift, a transient composition, a vulnerable arrangement–unifies the show. What is usually perceived as a symbol of aesthetic beauty, thoughtfully arranged and pleasing, comes to life in the artists' series in the form of strange, even impossible, material; recycled plastic, food, hidden and intimate parts of the body, hand-blown glass fused with metal. This playful yet provocative and intimate encounter between human and machine produce
d
 paintings of striking bouquets that b
rought
 together impossible combinations: substances, arrangements, geometries.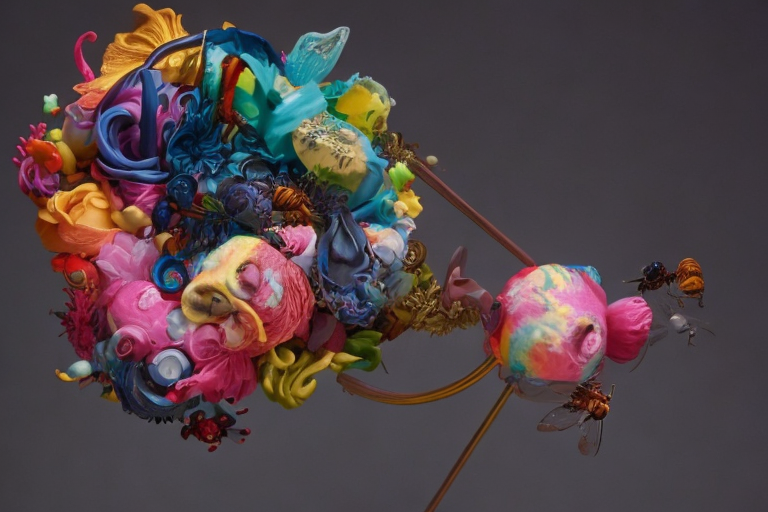 The urge to please while provoking – characterized these bouquets and Raghava KK's own sense of his artistic self. By investigating his own vulnerability as 'wetware' by allowing AI to play its own tricks on him and his art, Raghava KK explored the space of play between concealing and revealing, shame and arousal. The immaterial and non-judgemental AI allowed the artist the ability to talk to it in intimate and transgressive ways that would be nearly impossible with a human. Yet, the final painting was beautiful, classical and socially acceptable.
By entering into a critical dialogue with AI, the artist posed a crucial question about the future of art; how can the embodied limitations of human flesh and bone respond creatively, and without fear, to the advances in creative image-making made by bodiless 'software'?
The new wave of image-generating AI promises to be one of the biggest disruptions of the creative space. With the common interest in putting forth cutting-edge contemporary art practices, Volte Art Projects and The Gujral Foundation came together to present and explore the possible engagement between man and machine. The exhibition was an official collateral event of India Art Fair 2023 and a highlight of the fair's VIP Programme.
"It's both scary and thrilling to work with a tool that threatens to replace you. So I chose to play with it." 
- 
Raghava KK, 2023
"It's amazing how the very tools we create also end up changing us" - Raghava KK, 2023