The Gujral Foundation in association with Outset India was pleased to present an iconic public art project – a pleated pavilion titled The Song of the Earth and the Sky at the Sunder Nursery, New Delhi designed by the architect and artist Ankon Mitra. It was for the first time that an architectural pavilion of this magnitude was displayed in a public park in New Delhi.
It was displayed in the rediscovered garden of Sunder Nursery, renewed and revitalised from history and brought into the present. In this project, Mitra inserted an origami pavilion into a heritage garden with the idea of creating a 'garden within a garden'. The pavilion was created from a very thin sheet metal, all hand-folded over a period of several months. The Kirigami (fretwork) allowed wind to move freely through the form, and wire-ropes tied back the form to the ground and the tree support. The openings in the architectural shell created a visual and axial connection to two neighbouring monuments - the Sunderwala Mahal and the Sunder Burj.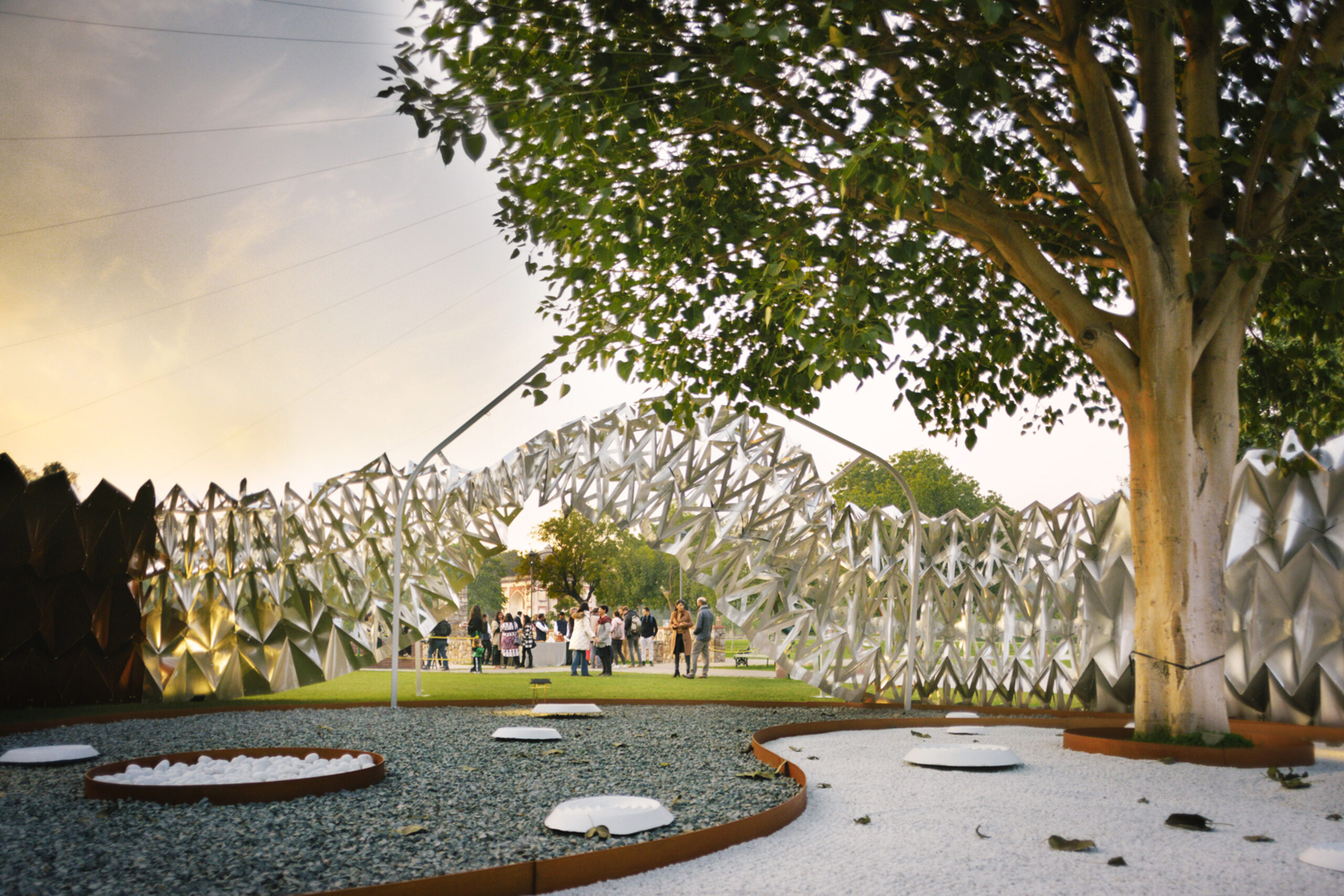 Architecture of the past lies strewn everywhere in the garden, lending us to a gem of geometry - a beautiful pointed arch. In the pavilion, Mitra multiplied the arch nine times to symbolise the nine realms. The Zen garden represents yin and yang, wind and water. The matt copper material represents the Earth, the shiny aluminium represents the sky. The Earth and the sky, never meet physically, but when the element of wind rises up from the Earth to the sky, and when rain falls from the sky to the Earth - in those moments of poetic energy, all barriers dissolve and the Earth and the sky form a union, a song of infinite melody. Enclosing all of these natural elements is a man-made Origami and Kirigami raiment of aluminum and copper; Its plan form was that of a Japanese Ensō symbol.
Ankon is an architect, landscape designer and pioneer of Origami in India. He is Director at Hexagramm Design based in New Delhi. His studio has taken the art and craft of Origami to materials well beyond paper. Ankon was the recipient of the All-India Gold Medal for Sculpture in 2018 from the Prafulla Dahanukar Foundation. The artist has had exhibitions in India, Italy, France, U.K, U.S. and China, most recently the Shanghai Paper Art Biennale in 2019.
Ankon Mitra:
https://www.instagram.com/ankonmitra/
The pavilion was open to the public for viewing from February 5 – April 26, 2020.